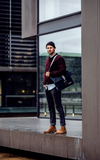 Ortlieb - Twin City Urban
NEW TO EVERYBODY EBIKES
Ortlieb Back Roller City dual pannier bags with the QL2.1 fastening system
As a dual-purpose stylish shoulder bag and practical bike bag, the Twin-City Urban enables you to finesse your daily activities in the city.
The Twin-City Urban is the ultimate 2-in-1 solution for city dwellers and commuters who rely on their bicycles for transportation. You select the bag's mission by closing the flap on one side or the other. The QL2.1 mounting system allows you to conveniently click the bag onto your bike rack after you detach the shoulder strap. And once you arrive at your destination, simply remove the bag from your rack, fold the flap over to cover the attachment elements, attach the shoulder strap be on your way. Smart dual-purpose design! And when you appear at the office, no one will suspect that your bag is anything but stylish shoulder bag.
The Twin-City Urban is large enough to carry a laptop, a tablet in DIN A4 format, a wallet, a smartphone, a water bottle, etc., and compact enough to allow you to navigate your way smoothly through the crowd. In addition to being waterproof and wear-resistant, the Cordura fabric has an appealing look and a pleasant, soft feel.
3M Scotchlite reflectors
Waterproof
Built In Internal Pockets
Shoulder Straps
Mounting QL2.1
30 cm x 39 cm x 12 cm
9L Volume
Max Load 9kg