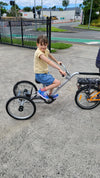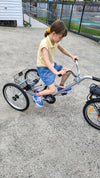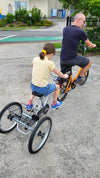 Tandem Trailer Trike (TTT)
The Tandem Trailer Trike offers great stability for riders in tandem. Using an innovative hitch and rear wheels available in 20" format, suitable for children and small adults, this is a versatile design for anyone wishing to ride in tandem without significant lateral movement.
Tagalong design requires pilot bike. Can be ridden with mechanical or ebike as pilot. Can be ridden with mechanical or ebike as pilot. Must be ridden with care and at speeds below 10 km/hr. 
Fully built and ready to ride
The unit has been designed to give more stability than the traditional single wheel trailer bikes but must be ridden taking into consideration the comfort and safety of the rear rider.
The Trailer Trike tagalong:
Will tow with no side-to-side movement
Is ideal for children or adults with a balance problem and special needs
Has a rear axle drive shaft and rear axle hubs have sealed bearings, which give a quiet, smooth ride
Has centre ridge tyres to complete the comfort
Is ideal for long rides and family days out
Should be ridden on flat roads and with due care when cornering or on camber as the trailer trike could roll over
Please note, when riding a trailer trike, the trike behaves just like any other trike and the pilot rider needs to consider the impact of camber, cornering and cross slope risk.