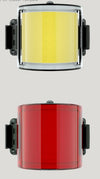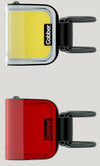 Knog Lil' Cobber Light set
USB chargeable front and rear light set
Charge time: 4 hours
 Lil' Cobber Twinpack Front and Rear lights produce an incredible 330deg of light, so you'll be clearly seen from all angles. It's brilliantly effective at attracting attention day and night, so if you're after the best commuter bike light set of 2020, look no further.
Stem-mounted
Cobber comes with a tool-less removable silicon straps for bars and seat posts 22-32mm+ diameter and a magnetic mount. A large strap is also provided that will fit tubes and head tube profiles with a circumference of up to 200mm. Cobber comes with a standard and Aero mount.
Easy to operate using a long press of the single button to turn light on/off. A short press will cycle through the modes. Lil' Cobber is 100% waterproof with an IP67 rating and has a maximum run time of up to 60 hours.
Specifications
Front 
Packing up to 110 lumens at the front, the efficient Chip on Board (COB) LEDs provide maximum brightness level for up to 90% of the battery burn time.
Pre-programmed with 4 light modes (able to be programmed for up to 20)

Max: 70 lumens, 1.5hr run time
Mid: 30 lumens, 4hr run time
Flash: 110 lumens, 10hr run time
Eco-flash: 30 lumens, 60hr run time
Rear
Up to 30 lumens at the rear with the COB to provide maximum brightness.
Five light modes
Low battery indicator
Max: 30 lumens, 1.4hr run time
Mid: 10 lumens, 3/5hr run time
Steady pulse: 45 lumens, 3hr run time
Flash: 50 lumens, 7hr run time
Eco-flash: 10 lumens, 40hr run time