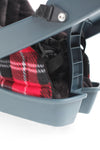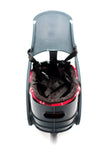 Buddy Rider Bicycle Pet Seat
Buddyrider is a bicycle pet carrier, that is designed for dogs (or cats) up to 11.5kg (25 pounds) and bicycles with at least 48 cm (19") between the seat post and the handlebar stem. Includes all brackets and hardware to mount to bicycle (soft insert is an optional extra).
Your pet must be secured in the seat at all times using the safety harness provided. See Installation and Instructions page.
OPTIONAL INSERT FOR EXTRA COMFORT (EXTRA COST)
Can not be Mounted to Carbon Fiber or Titanium Seat Post. If you have a carbon fiber/titanium seat post you must replace it with an aluminum or steel seat post.
Safety Warning Please Read
If you choose to purchase and install the Buddyrider pet seat, you do so at your own risk. Cycling can be inherently dangerous especially when carrying passengers or cargo of any kind. You must wear protective gear at all times (helmet and gloves etc).
The owners, directors, employees, and or any other representatives of Buddyrider or The Virtual GIS Group Pty Ltd will not be held responsible for damage caused or injury sustained through the use of the Buddyrider pet seat. Further more you assume all risks associated with the fitting and use of the Buddyrider pet seat.