A couple of weekends ago, we braved the magpies and the dust and headed to Esk for a Brisbane Valley Rail Trail adventure. Many of our customers have asked our advice regarding suitable electric bikes, tyres, puncture protection and saddles and we thought that the best way to be able to provide some guidance is to get out there and ride ourselves.
We travelled up to Esk on a Sunday to avoid some of the weekend traffic and aimed to ride for a couple of days only, selecting sections which were well-regarded on the BVRT facebook page (link) and following recommendations from customers and friends alike. Four riders headed out on a mix of bikes and with a wide range of experience:
Richard – experienced rider, Lekker Amsterdam GT ebike with 8 speed internal gearing, 14.5Ah battery and belt drive configuration, WTB riddler and dual side panniers
Stephen – experienced cautious rider, acoustic hard tail mountain bike with front suspension and mountain bike tread tyres carrying double panniers
Andrea – semi-confident ebike rider, Lekker OutBack with 8 speed internal gearing, 14.5A battery and belt drive and standard OutBack trekking tyres
Jenny – inexperienced but keen rider, BFeBikes hub-drive ebike with 10.4Ah battery, 8 speed internal gearing and chain drive, fitted with Schwalbe Marathon ebike tyres
We had hoped to fit Jenny up with a mid-drive but the shipment didn't arrive quite in time so we knew we would need to offer some serious encouragement.
All of us were kitted out with Da Brim helmet shades for both the sun and for magpie protection and some of us chose to ignore embarrassing looks and at least trial the streamers of bird scare tape issuing from our helmet vents.
Day 1 – Tentative exploring
Sunday afternoon was an exploratory short trip north of Esk towards Toogoolawah. Not a great success as an introduction to the rail trail, given Jenny's familiarity with her bike, but at least it demonstrated what the trail is like when the ballast is still quite coarse.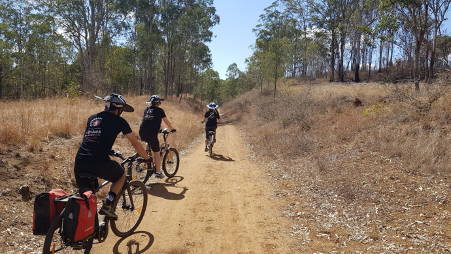 Only 1 encounter with a magpie and he definitely avoided the streamers but preferred to try his luck against Richard who was wearing only the Da Brim over his helmet. Swooping only, so a gentle introduction really. I must say it was a bit too soon to start spouting the benefits of bird-scare tape regardless but that didn't stop a healthy discussion from happening! A bit of prep would have shown that heading south from Esk would have been a gentler introduction to the delights of rail trail riding and possibly less bone shaking than what we experienced with our rigid suspension ebikes!
Day 2 – Yarraman to Linville and on to Harlin
Our plan was to drive to the head of the rail trail at Yarraman and to make a reasonably early start given the weather forecast. It was lovely to be riding through the shaded trail and over the many grids and definitely more like what we were expecting. Richard and I loved the swoop down the numerous creek crossings, enjoying the boost from the mid-drive motors to get us up the other side. The hub-drive motor was less predictable and natural for Jenny so she wisely decided to walk quite a few of these gullies.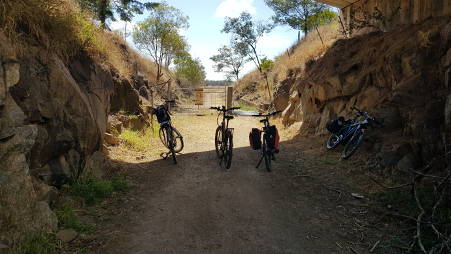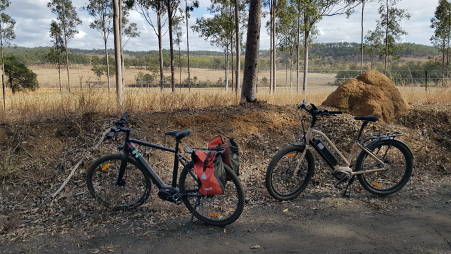 Stopping in Blackbutt at the famous bakery was of course a highlight. An injection of caffeine and a refill of cold drinks were appreciated as well as some savoury treats.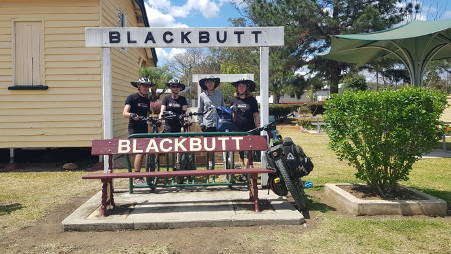 The next section, which was mostly downhill from Blackbutt to Linville was a dream. Gorgeous scenery, much relief from the sun with the treecover and sounds of bellbirds as we threaded our way through Benarkin Forest. Just the variety of cutting and embankment makes the journey so wonderful and the trail has scattered information along its route telling of the history.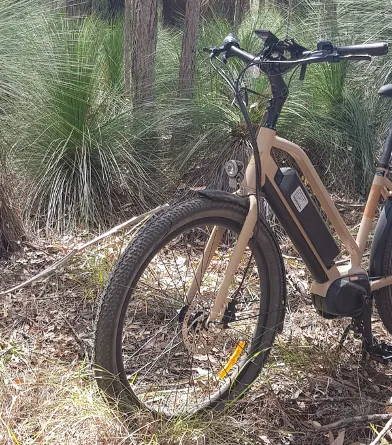 Always a marvel to imagine what the men would have endured just building the trail in the first instance.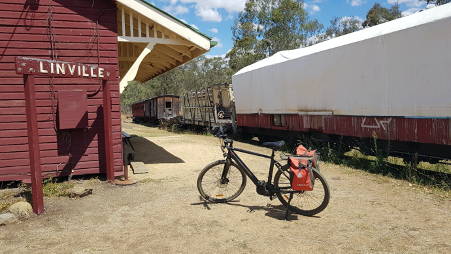 By Linville, we were due lunch and the recently renovated pub did not disappoint. Friendly staff, excellent service and a great selection to accommodate our varied dietary requirements.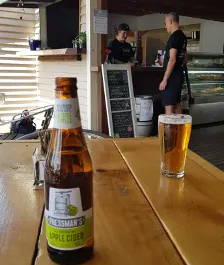 The boys decided to push on while Jenny and I decided a slower afternoon of reading would be very welcome. Having the flexibility of splitting the group and getting Out There Cycling to come and pick us up was fantastic. Josie came on time, took us back to the van in Yarraman and we headed further down to join the boys when they had reached Harlin and felt it was time for a beer. Our first real adventure did not disappoint on any level and we are very keen to come back and do the Linville to Yarraman return trip another time just for the enjoyment of traversing such gorgeous country.
By all accounts, the trip from Linville to Harlin was smooth and an easy ride, good surface and not too many magpie encounters except around Moore where the renowned brothers (3) decided on a coordinated and sustained attack, ignoring both tape and Da Brim. No blood drawn so the brims still worked!
Day 3 – Esk to Fernvale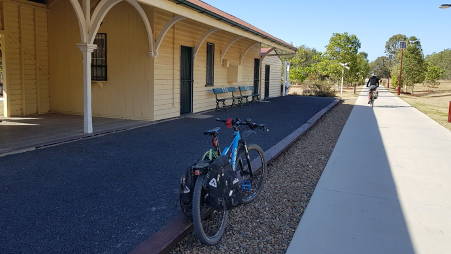 3 of us headed south from Esk and quickly realised the mistake of the first exploratory trip on Sunday. Although drier and more exposed, the rail trail south of Esk was far smoother than our first excursion. Lesson learnt for sure. The grading of the surface meant that much of this section could be ridden with rigid suspension bikes and without chunky tyre treads.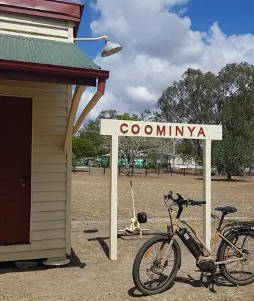 The last stretch into Coominya was a bit bumpy (more of that later) and the country around Lowood was particularly dry during our trip but the trail all the way to Fernvale was overall great. The Old Fernvale Bakery was pumping by the time we got there, enjoyed a lovely lunch and a nice cool drink.
I clocked over 100km as we rode into Fernvale, so felt like reaching triple digits was an achievement regardless!
Richard and I wanted to head on to Wulkaraka so we could report on that section too but it was a crazily busy day for the Out There Cycling team and we didn't fancy waiting at the end for a few hours, so we decided to ride back to Esk. We knew what to expect, where we would be targeted by the magpies and where we would be able to stop – what could go wrong? Well, possibly planning to avoid the bumpy section outside of Coominya was not a great plan. We deviated from Lowood towards Mt Hallen and maybe the hint would have been in the name. We may have passed through Mt Hallen station on the trail:
But if you go by road, the terrain is not quite so forgiving. Needless to say we ran our batteries down to nothing, were reminded of just how slowly I ascend steep hills when the wattage is coming from my legs alone and were relieved when we found an access point on the Gatton to Esk (very busy) highway where we could regain the BVRT and laugh at the error of our ways (we did laugh, but only when our battery management systems decided they would give us a little bit more power back to at least sit on PAS 1 or 2 on the final 10km!)  
Lessons learnt
Always wear a Da Brim during summer or magpie season
Plan your trip considering the value of being able to ride in 1 direction only and using the excellent service of the Out There Cycling team
Enjoy the stops along the way and the hospitality offered by the bakeries, pubs and cafes along the route
Choose sections wisely if you are planning to ride with a small wheel bike like the BF i-Ezi or with any bike fitted with narrower tyres
Don't think the road will offer a welcome relief from the ballast – those busy highways are not much fun after the peace and quiet of the rail trail and those hills…need I say more…
If you can, ride a mid-drive to manage the acceleration/deceleration more naturally across the more rugged sections and to scale the rising after creek crossings
Consider a Kinekt suspension headstem to take a bit of the shock out of your wrists, especially if you are not a confident rider. Ours arrived the day after we returned and now we will just HAVE to go back and test them out!
Enjoy the journey, stay within your capabilities, break up the route into sections you will enjoy or will suit your skills and aspirations
It doesn't have to be a competition: enjoy the vistas, smell the roses and listen to the bellbirds!
Think of the visit as one of many – this isn't a rail trail to do just once. We would recommend many return visits and reckon each time you would take something new and exciting away from the adventure!
A big shout ou to Da Brims for the excellent sun brims. We found both the classic and sporty brims to be equally effective at deterring magpies and shading us from the unrelenting sun. We will continue to ride with them firmly on our helmets. Thank you!
We enjoyed staying at the Esk Caravan Park in the deluxe villa and greatly appreciated the hospitality and friendly attitude of the many bakeries, pubs and cafes we visited during our stay. A wonderful community which is encouraging visitors and enthusiastic about their natural and manmade local resources.
Give us a call if you want to know more, pop into the shop and we are happy to share more or offer advice based on our limited experience of this wonderful rail trail.