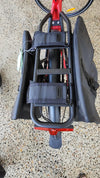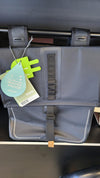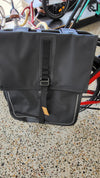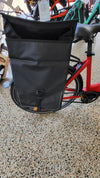 Basil Urban Dry Double Pannier MIK Shopper 50L - Matte black
SHOPPER STYLE WITH GENEROUS 25L each side AND UNIQUE FAUX LEATHER TRIM and MIK locking system.
The Basil Urban Dry Double MIK Pannier is a practical bicycle shopper with a total volume of 25 litres on each side joined with a bridging system across your rear rack. Looking for a versatile double bike bag with a more modern look? Then the Basil Urban Dry Double Pannier is certainly for you. Striking accents made from vegan leather add a sophisticated finish, while the generous interior provides plenty of storage for your daily essentials. If you enjoy cycling to work, you'll find plenty of room for all the items you need for a successful day at the office, from your notebook and stationary supplies, to your smartphone and packed lunch.
Prefer cycling to the store rather than driving? You'll have no shortage of space for those delicious groceries with this stylish Double MIK pannier. The bags not only have a large zip-fasten compartment, but several other smaller compartments for extra bits and pieces, ensuring some organisation while you ride. Each side of this double bag closes with a folding design, while reflective accents help keep you visible on the road at night or during limited light. An adjustable closure allows you to fully personalise this bag to your preference. 
Comes with the MIK system for a rack-based locking security for that extra peace of mind.
Specifications
The Basil Urban Dry Double Pannier MIK Shopper is a modern choice of bicycle shopper in classic black. Suitable for use with both men and women's bikes.