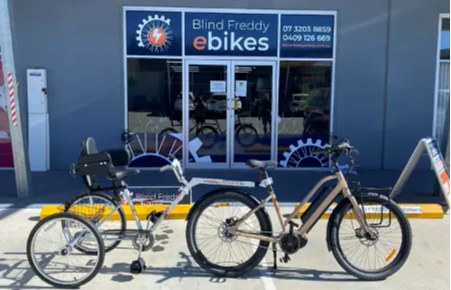 New range of trikes for those with Special Needs
Since taking over Blind Freddy Electric Bikes in November 2019, it has been our mission to expand the range of bikes we can offer those living with restricted mobility or disabilities. We realised very early on that one-size really does not fit all, and the importance of finding the right assistive technology equipment to meet the needs of the individual is paramount.
Everyone who comes into our store will have a different reason for seeking an electric bike or tricycle. Sometimes, this equipment is called a special needs trike but other times a customisation of an electric two-wheel bike or including some modifications to an electric trike will make the world of difference to the individual.
At BF eBikes, we don't take pedalling for granted. Most recently, we have worked with some of our customers to help them with that pedalling action. Shortening the length of the cranks can make the difference between being able to ride and not for a knee replacement recipient. We have had customers feel really emotional when they realise that cycling is once again possible when their bike is configured to suit their needs.
Most recently, we have all experienced stock supply issues due to the challenges 2020 has thrown at us all. A positive outcome though has been our focus on approaching others with similar interests and passions for helping those living with disabilities. We are now very proud to announce that Blind Freddy Electric Bikes will be able to demonstrate, supply and customise the BodyCycles range of tricycles including the Edge trikes. After many months working with Tracey and her team in Adelaide on some of our requirements for modifying existing and new bikes and trikes in the Rehatri, Gomier and BF eBikes ranges, we can add the Edge tricycles and the Tigermoth to our range. We see the synergies between our family-orientated companies and believe this will result in better options and choices for our customers across Queensland and northern NSW.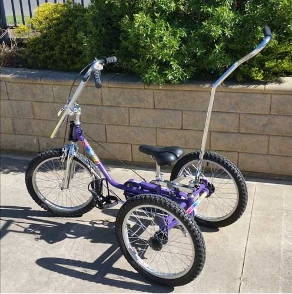 Our collaboration with companies outside of Australia continues and this has proved to be particularly rewarding in these times of supply-chain issues. One of these relationships has resulted in several of our special needs customers being able to trial the trike tandem, a fantastic innovation which offers the tandem rider with a stable and comfortable ride.
In this case, we teamed the tandem trike with a Lekker OutBack electric bike which has front and rear hydraulic disc brakes, a powerful mid-drive motor and a low step-through for safe mounting/dismounting. Even with an adult tandem rider, you couldn't really feel the extra weight.
But we also acknowledge that adding more to our standard range is not the only solution for many who approach us for support. The customisation part of our business is evolving rapidly and the range of modifications we can offer is ever-expanding. We enjoy being able to talk with participants, their families and their allied health professional support teams to better tune our current range for the individual. Just talking through daily challenges with existing equipment or discussing in more detail options to achieve goals can open up a world of new opportunities for customised equipment.
Recently we have expanded our range to offer a device to enable the care team to swap between fixed-wheel or free-wheel modes on a special needs trike. As the rider develops skills and familiarity with the equipment, we saw the need to be able to test progress with the pedalling action in a way which would not scare or be off-putting to a tentative rider or demand of the care team a level of mechanical skill which would prevent them from trialling the switch. We have had one young rider initial struggle and then overcome those challenges to be able to ride with far more confidence
Other innovations are occurring regularly and we approach each challenge with an open mind, a willingness to think creatively and with a team of people with complementary skills and experience to offer constructive suggestions, a solutions-based approach and a level of realism that tends to shine through.